A couple months ago, a friend of mine (who is also a past client; what an honor: friends who support your business) asked me if I'd do a photoshoot with just she and her husband to celebrate their tenth wedding anniversary and her having beaten a rare and deadly form of breast cancer. We met back in college right after they got married but were kind of like ships passing in the night. They were around just long enough after I transferred for us to say hello real quick so it was a joy to reconnect a couple years ago at a mutual friend's wedding.
Since then, our kids have enjoyed many playdates and Sarah and I have managed to sneak out without kids for a few tea dates. It has been a lot of fun getting to know her better.
In the past several months, I have watched her walk through a cancer diagnosis, insurance battles, a double mastectomy, and the following long recovery. Her faith and courage through this journey has been extraordinary. She is an amazing woman: child of God, wife, mother, and friend. It has been a privilege witnessing her strength and Jonathan's support and love during this time.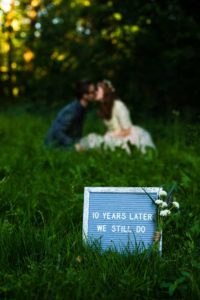 This couple is so clearly made for each other. I can tell they are every bit – and more – as in love as when I met them 10 years ago as they are now. Some of their favorite memories from their relationship are the births of their 2 children; working in ministry together (among other things, they served on college campuses working with international students); traveling to Russia, Japan, and Hawaii; buying and renovating their first house (it's lovely, y'all); laughing at their goofy inside jokes; and many, many park and picnic dates.
I asked Sarah if they had any advice for newly married couples or those getting married soon and she sent me the following:
"Know that you both grow and change through your lives, be willing to grow and change together. My husband is not the same person I married, but neither am I the same as I was 10 years ago. People and situations are always evolving, but if you are committed to communicating your needs through different stages of life, putting your spouse first, and falling in love with each version of them, your marriage can weather most anything life throws at you!"
Sarah + Jonathan,
Thank you for letting me walk alongside you. You are a wonderful couple and it is a joy knowing you. I am so thankful, though most assuredly not nearly as thankful as Jonathan, that you are cancer free, Sarah. You both have so many more amazing adventures, blessings, and growing to do ahead of you. Here's to the next 60+ years of marriage. God bless your journey and guide your path, friends.